Issues
The Landscape Partnership is committed to diversity, equity, and inclusion. We believe that diversity, equity, and inclusion are essential to achieving our mission of protecting essential ecosystem services, creating sustainable working lands, and enhancing biodiversity.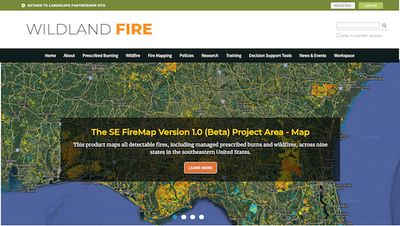 The Wildland Fire site within the Landscape Partnership portal serves as a clearinghouse to support technical experts as a community of practice, currently focused on the southern states. This site links individuals and diverse groups with the information each maintains on wildland fire on their respective internet sites, and our hope is that we will send more traffic to our partners' sites.
The SE FireMap project aims to develop an improved fire mapping system in the Southeastern United States. This cohesive system will track both prescribed fire and wildfire activity on public and private lands and serve as a critical decision support tool to maximize the effectiveness of fire management practices.